Moodle
An accompanying online course can be set up for each course on the central Moodle e-learning platform, which is accessible to teachers and students regardless of time and location.
Moodle courses offer the possibility to provide teaching and learning materials for the students as well as to integrate texts, images, links and videos. Furthermore, exercises, tests and choices (voting) can be created.
Teachers can send information to the students via news forum or email. Forums, chat or wiki are available as additional communication and cooperation tools.
Support and Additional Information
* The protection of your personal data is very important to us. Therefore, we would like to inform you about data protection in the context of the information requirements of the EU General Data Protection Regulation. If you actively contact us via the functional emails, we save and use your contact details and the information provided in an electronic ticket system for the purpose of processing. After completing an inquiry, i.e. after closing a ticket, it is automatically deleted after six months. There is no forwarding to third parties. In principle, you have the right to information, correction, deletion, restriction, data portability, revocation and objection. The University of Applied Sciences Berlin is responsible for data processing, represented by the President. Further information on data protection can be found on our website. Here, for example, the official Data Protection Officer and the responsible supervisory authority are named.
Contact Person Technical Content
Contact Person Content Production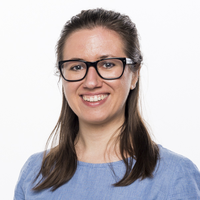 Tina Tanurovska
Rufnummer:
+49 30 5019-3590
Campus Wilhelminenhof
TGS Haus 9, Raum 211
Ostendstraße 25
 Nach Vereinbarung